iOttie Velox MagSafe Magnetic Wireless Air Vent Car Holder
iOttie Velox MagSafe Magnetic Wireless Air Vent
Car Holder Magnetic
iOttie Velox Wireless Air Vent Mount is magnetic holder with charger, supporting wireless fast charging. Holder is dedicated Apple iPhone and case compatible MagSafe.
Your phone is installed in the magnetic mount in two seconds. All you have to do is press your device against the iOttie Velox, which clings firmly to the mount in a flash, establishing a stable position. This wireless accessory provides up to 7.5W of power.
Mounting the iOttie Velox Air Vent car mount to the grille is quick and easy. It involves sliding the clip into the air vent grille. Thanks to the silicone parts, you don't have to worry about the holder falling out of the grille on a bumpy road or during sudden braking.
The iOttie Velox mount uses a ball hinge that allows you to adjust the position of your phone that suits you and keeps it secure. The silicone surface it is covered with provides a soft touch and protects your iPhone from scratches, while the aluminum casing effectively dissipates heat. Now you can travel easier than ever and have your phone close at hand on the go.

Wireless Car Mount iOttie Velox MagSafe
The iOttie Velox Wireless Magnetic Car Mount is designed for phones that support MagSafe technology, namely the latest iPhones: 12, 13, 14 and for MagSafe case.
Mount with charger MagSafe: iOttie Velox Air Vent
Made of aluminum, the iOttie Velox charging cradle's housing provides optimal heat dissipation so that any iPhone with MagSafe can be powered with maximum efficiency.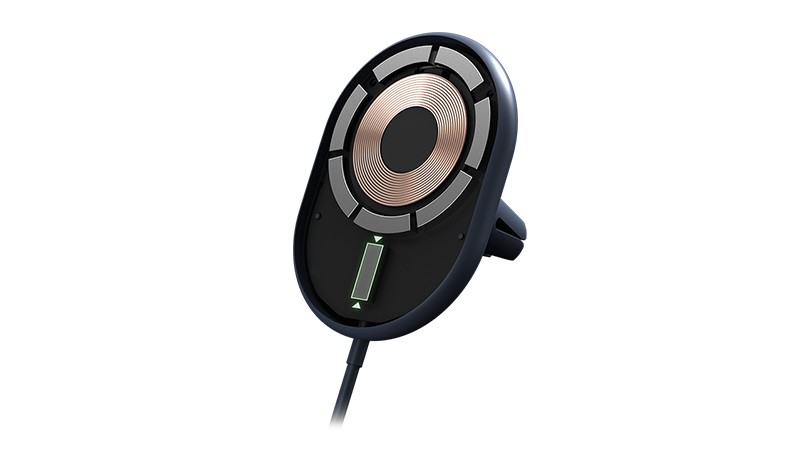 iOttie Velox with Fast Charging
The iOttie Velox will provide your phone with up to 7.5 watts of power to keep your MagSafe iPhone always ready to go. What's more, it provides support for fast charging, which will further speed up the process in an emergency situation.
Car Holder iOttie Velox Wireless for Air Vent
If you are worried about the instability of holderu car, we come to your rescue. Tested for durability, the high quality silikonew components ensure easy installation and a firm grip on the grille.
Phone Mount iOttie Velox
We designed iOttie Velox mount with full functionality in mind. You can adjust the viewing angle and orientation of phone placed in the holder. This is made possible by a ball-shaped joint that you can rotate in any direction. You can easily adjust it to give you a comfortable and safe trip.
Product Features iOttie Velox Wireless to Air Vent
iOttie Velox Wireless for Air Vent:
Provides wireless fast charging of up to 7.5W
It is a holder magnetic mount with MagSafe
It has a durable unibody aluminum case
Features silicone components for secure installation
Has a USB-C charger included
It is compatible with iPhone 12, iPhone 13 and iPhone 14 and case with MagSafe
Learn how to operate iottie Velox Wireless from Manual .
Specifications iOttie Velox Wireless Air Vent
iOttie Velox Wireless

 
Cable length
122 cm/4'
Mount Length
5.5 cm/2.22"

Mount 

Width
6.6 cm/2.61"

Mount 

Height
9.0 cm/3.58"

Mount 

Weight
142 g/5 oz
Input power

DC 9.0V - 1.67A
DC 5.0V - 2.0A

Output power (wireless)
7.5W
Chargers Car Specification
Input Power

Output Power
DC 12V ~ 24V
DC 5V ~ 3A
DC 9V ~ 2A
DC 12V ~ 1.5A