iOttie Velox Magnetic Mount MagSafe Air Vent
iOttie Velox Magnetic Mount MagSafe Air Vent
Magnetic Phone Holder to grille MagSafe
iOttie Velox Air Vent Mount is magnetic mount to the grille to Apple iPhone from MagSafe. Simply place your device on the Velox mount and it will snap into the perfect spot, ensuring a secure position. The iOttie Velox MagSafe holder is easy to install by simply sliding the lugs into the air vents. Silicone parts prevent the holder from changing position or slipping out.
The iOttie Velox Magnetic Mount has a ball-and-socket joint that rotates 360°, allowing you to adjust to the ideal and secure position while driving. The silicone surface is soft and protects your iPhone from scratches and scrapes. Now it's easier than ever to mount your phone holder and hit the road!
Mto iPhone from MagSafe: iottie Velox Magnetic
iOttie Velox is magnetic mount to iPhone. It was developed in cooperation with mobile phoneami Apple supporting technology MagSafe. It is the perfect travel companion, taking care of safety and the right direction with your iPhone.
Car mount iOttie Velox to Air Vent
You will install the iOttie Velox car mount with ease. Simply slide the clip between the blades of the vent, the silicone surface prevents the holder from slipping, ensuring a stable position.
iOttie Velox Mount is suitable for air vents with horizontal baffles.
Magnetic phone mount iOttie Velox Magnetic
The super strong ball joint allows you to easily adjust holderu magnetic iottie Velox Air Vent to the optimal viewing angle for you. You can adjust your mobile phone to the orientation and tilt that is convenient for you.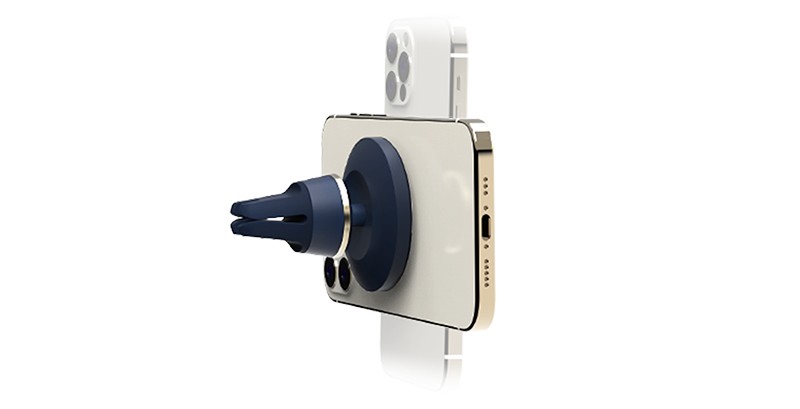 iOttie Velox MagSafe: Holder to iPhone 12/13/14
Keep your iPhone 12, iPhone 13 or iPhone 14 in a secure position throughout your journey, even on rough roads. The strong magnetic ring ensures stable phone Apple of MagSafe.
Product Features - iOttie Velox Magnetic Air Vent
iOttie Velox Magnetic to Air Vent:
Strong magnetic mount
Has silicone clip and mounting surface for secure installation
Swivel ball joint for optimal viewing angles
Compact, lightweight design
Compatible with iPhone 12, iPhone 13 and iPhone 14 series with MagSafe
For more information, obtain from Manual iOttie Velox.
Specifications iOttie Velox Magnetic
| | |
| --- | --- |
| FEATURE iOttie Velox Magnetic | DIMENSION |
| LENGTH | 5.8 cm/2.3" |
| WIDTH | 5.8 cm/2.3" |
| HEIGHT | 5.9 cm/2.31" |
| WEIGHT | 52.4 g/1.85 oz |