iOttie Auto Sense Wireless Qi Mount Car with wireless charging
iOttie Auto Sense Wireless Mount with Qi Wireless Charger for Apple iPhone, Samsung and others
The iOttie Auto Sense is a windshield and dash car mount with wireless charging. It is a high-tech accessory that comes with an automatic clamp.
With the Auto Sense feature, which is powered by a proximity sensor, you can mount your phone in no time. Simply place your device near the iOttie Auto Sense mount and the arms will automatically close to secure your phone.
It comes with a reflective sticker for use on black or matte phones and a case to make your device more detectable. When mounted in the iOttie Auto Sense car mount, Qi wireless charging technology automatically delivers power to your smartphone without the need for additional charger cables.
You remove your phone from the mount by touching the two release buttons on either side with a quick flick of one hand. Mounting and adjusting the iOttie Auto Sense on the windshield and cockpit is quick and easy. A strong suction cup stabilizes the mount, keeping the alignment constant. This guarantees you a safer and more comfortable ride than ever.
The iOttie Auto Sense car mount for windshield and cockpit will keep your phone stable and provide wireless charging on the go.
iOttie Auto Sense Mount with Qi Charger
The iOttie Auto Sense is a mount that provides Qi wireless charging for your phone on the go. It effectively delivers up to 7.5 watts (iPhone) and 10 watts (Android).
Use the included iOttie car charger and Micro USB cable. If you are using a third-party car charger, use the Quallcom Quick Charge adapter or equivalent for wireless charging (with compatible devices).
Before using holder iOttie Auto Sense with the charger, make sure your device is compatible with Qi Wireless technology.
iOttie Auto Sense Mount for windshield and dash
You mount the iOttie Auto Sense mount to the windshield or dashboard of your car. You can adjust its position to your individual needs. Thanks to its strong suction cup, it will hold stably to both the dashboard and windshield.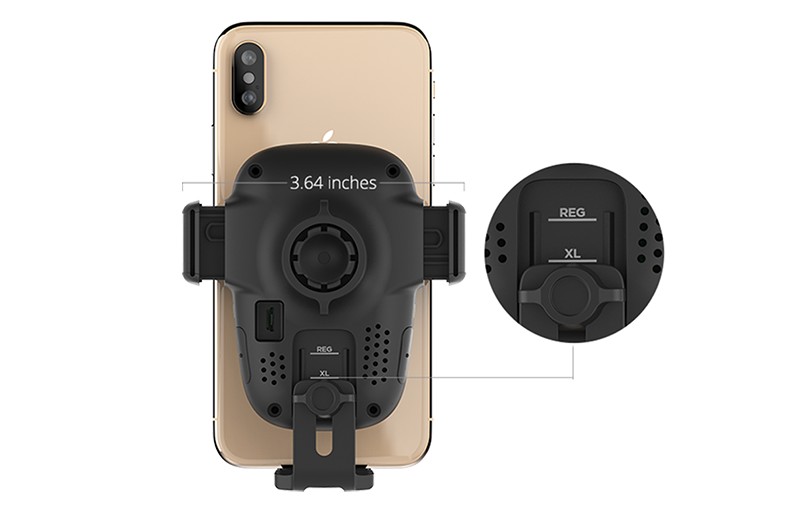 Phone holder iOttie Auto Sense
The proximity sensor automatically detects and secures phones within a range of more than 7 cm (3″). To release your phone from the iOttie Auto Sense mount, simply touch the release buttons on the sides of the mount.
Mounting at a right angle to the Auto Sense mount works best with the proximity sensor. When mounted at an angle, the phone will need to be very close to the sensor for the arms to open.
iOttie Auto Sense Mount comes with a reflective sticker for use on black or matte mobile phone and cases to increase the device's detectability. Reflective smartphone cases work best. Dark-colored or textured cases do not reflect light well, making it difficult for the proximity sensor to detect phone.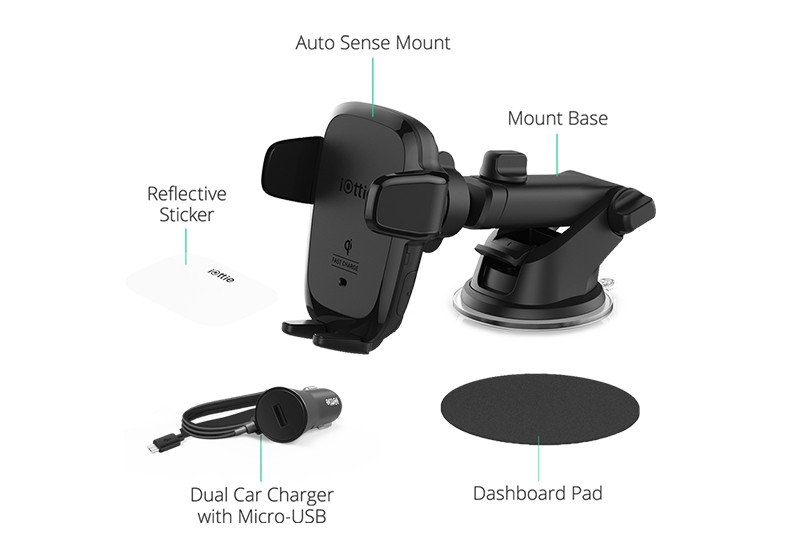 Car mount iOttie Auto Sense
The iOttie Auto Sense car mount has a foot that supports and aligns phones of various sizes: from standard to extra-large smartphones, providing efficient wireless charging.
The internal battery stays charged for up to an hour when unplugged for added convenience.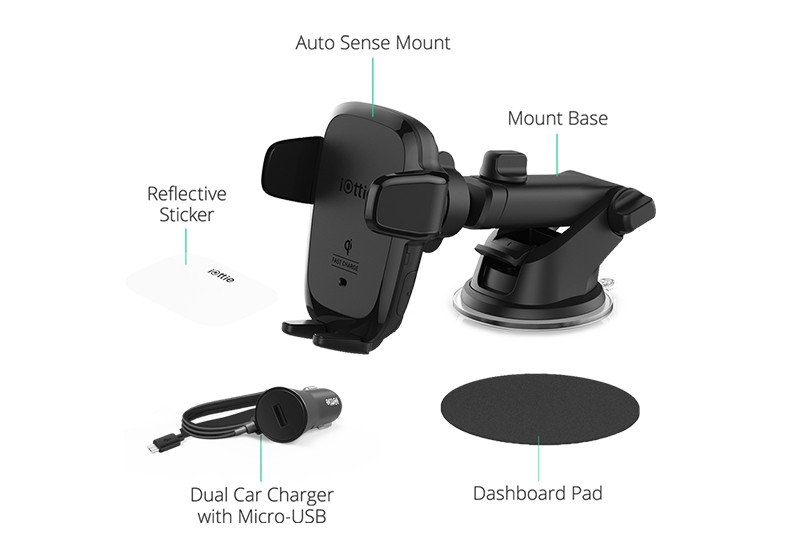 Product Features: iOttie Auto Sense
Holder iottie Auto Sense:
Automatically detects and secures smartphones with a proximity sensor
Supports Qi-certified wireless charging with 7.5 watts (iPhone) and 10 watts (Android)
Release buttons mobile phone for one-handed operation
Has a long and shock-absorbing telescopic arm
Reflective sticker increases detection of black or matte phone and case
Extra strong suction cup for easy mounting on smooth or textured surfaces
Designed for devices with a maximum width of 9.2 cm/3.64 inches
Carefully read Manual, to use mount iOttie Auto Sense correctly.
Specifications iOttie Auto Sense
iOttie Auto Sense

 
INPUT POWER
DC 9.0V-1.67A
DC 5.0V-2.0A
CHARGING PORT
MICRO USB
LENGTH
7.5cm/2.96"
WIDTH
6.9 cm/2.75"
HEIGHT
9.5 cm/3.74"
WEIGHT
118 g/4.16 oz